Shri Vidyasamudra Teertha Sripadaru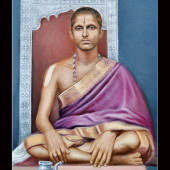 Sri Vidyasamudra Teertha was the 28th Pontiff in the lineage of Kaniyooru Matha. He was born as the eldest son of a highly devoted and religious couple Narasimha Acharya and Rukmini Devi on 09th April 1890 at a village named Budeya, near Puttur of Dakshina Kannada District. He was named as Narayana by his parents. He was taught all the basic rituals at home by his father and his Brahmopadesham was performed at the age of 8 years. His devotion and detachment impressed the then pontiff of Kaniyoor matha, Sri Vidyanidhi Teertha, who was also their close relative before accepting Sanyasa. This led Swamiji to declare him as his successor in the year 1902 and was initiated into sanyasa with the Ashrama name as Sri Vidyasamudra Teertha.
He had initial coaching in Sanskrit from Sri Belle Gururaja Acharya. Further he learnt all Sarvamoola granthas and other Madhwa shastra granthas from the then pontiff of Admar Matha, Sri Vibhudapriya Teertha. Sri Vidyasamudra Teertha proved himself by performing tough austerities and adhering to the rules of Sanyasa dharma. He also proved his devotion and loyalty towards his Vidyaguru many times.
One day when Sri Vibhudapriya Teertha was travelling, he found a sugar factory on the way and he visited it. There he saw a huge pile of bones and out of curiosity he enquired the use of bones. The workers at the factory told Sri Vibhudapriya Teertha that it was used for preparing sugar. From that day Sri Vibhudapriya Teertha stopped consuming sugar and also told his disciple- student Sri Vidyasamudra Teertha not to consume sugar henceforth. Due to his highly committed devotion towards his guru, Sri Vidyasamudra Teertha never consumed sugar in his lifetime nor did he offer it to God during any pooja. This is an example of unconditional devotion towards one's guru by the disciple.
Swamiji's daily routine
Every morning, Sri Vidyasamudra Teertha Swamiji used to wake up at Arunodaya (about 2 hours before Sunrise), perform daily ablutions and then would prostate before his mother (who used to take rest in one of the rooms at the Matha). Then he would pray before Lord Sri Lakshmi Narasimha, and follow it by the reading of the day's panchanga (calendar). Then in the company of the students of the Matha he would visit temples' around. He would start with the visit of Lord Sri Chandramouleeshwara and then proceed to Lord Sri Anantheshwara. The priests over there would discuss with Swamiji that was there in their mind. Swamiji would give them solutions from various sources quoting the scripture name and the page number for further reference and thus solve their problems. Then he would go towards the Madhwa sarovara (pond) where he would wash his feet and then would have the darshan of Lord Sri Krishna and Mukhyaprana. He would regularly pick Tulasi leaf (basil) and pieces of thread that would have been on the way. His intention was that Tulasi was sacred and hence nobody should stamp over it and that pieces of thread would pollute the devotees who would circumnavigate the temple (pradakhsine). Thus he would lead by example in becoming a role model to others. Then he would proceed towards the Subrahmanya temple and all the Vrindavanas of his predecessors then prostrate before the Ashwatha (Peepal) tree and finally visit the Goshala and then would return to his own Matha.
He used to feed the cows who would be waiting eagerly for him, with grass, fodder and bananas and would enjoy them feeding upon it.
Sri Vidyasamudra Teertha would then take bath and complete his morning bath and would spend his time in reading and taking lectures, discourses for the benefit of students in the Matha. In order to practice strict celibacy, he used to consume a lot of Tulasi leaves, but due to this he had less control over the passing of urine and stool. Hence offering the pooja to the Samsthan deities was a big challenge so he kept the main idols at Sri Krishna Matha and offered all the pooja, Dakshina, donation and santarpane for the smaller idols on daily basis. Whenever he had to visit the restroom or if he felt that he had touched something he would take bath and sit would front of the sanctum in the verandah performing japa. During this time any of the officials of the Matha and general public could come and meet Srigalu.
Due to the regular ill-health of Sri, the noon pooja would happen much later than the normal time. Only after that Sri would take food. But, he had made separate arrangements for lunch for all invitees, guests, officials and all students so that they do not wait for Swamiji's lunch. Then again in the evening compulsorily he would visit the temple and have the darshan of the Lord. Even during his last days though he could not walk by himself he would visit the temple with the help of a couple of disciples and complete the darshan.
Swamiji's way of honoring the scholars was unique. He would give them handsome remuneration based on their ability and qualification. Every remuneration and donation would be accompanied by pieces of gopichandan (bars made of yellow colored mud from Dwaraka), that was the speciality of Swamiji. Not only that but also he would make the disciples and officials recite the Vedas, stotras and Sarvamula according to their ability and then offer it at the feet of the Lord. Then depending on their performance Swamiji would reward them remuneration. Swamiji had made arrangements for regular recitation of Sri Madhwa Vijaya at the place where Sri Madhwacharya disappeared (at Sri Anantheshwara Temple).
Beyond that he made arrangements for regular Ganahoma every Chaturthi, Durga pooja every fulll moon day, and Chandika homa during Navaratri. Also during the period of eclipse he would donate cows. Then during Ellamavasye (New moon day in the month of Margashira) he would take bath in the sea (Samudra Snana) and while returning from the bath he would visit Sri ShankaraNarayan Temple Kodavoor and Sri Mahalingeshwara Temple Bannanje. Also during Krishna Angaraka Chathurdashi (14th Day after full moon but falling on Tuesday) he would take bath n the Swarna river. (During this day if one takes bath in the Swarna River he would hear sounds of burning, this is like all the sins burning away).
Declaring the successor and travelling to the heavenly abode Swamiji declared his poorvashrama brothers' son Narahari as his successor and gave him Sanyasa deeksha in the year       and named him as Sri Vidyavarinidi Teertha. He then kept the disciple with him in the Matha and gave him all the required basic education in Sanskrit. Then he also made the disciple study advanced works of Madhwa philosophy under Sri Suprajnanendra Teertha of Puthige Matha and Sri Lakshmeendra Teertha of Shiroor Matha, and he himself would also instruct him of the austerities of the ascetic (sanyasa) life.
On 26th Jan 1964 Swamiji (12th day of the Hindu Magha month), as usual Sri performed his daily pooja and japa. Then in the evening he paid a visit to Sri Chandramouleeshwara temple, Anantheshwara temple and Sri Krishna Mukhyaprana, offered his daily prayers and returned to his Matha. Every time before travel Sri used to visit all the temples. Similarly, before his final travel Sri visited all the temples and then came back to his own Matha and leaned on the deerskin seat and left the worldly body and moved towards the heavenly abode of the Lord. The next day headlines of all Udupi newspaper read "The knowledge lamp of Udupi douses". This shows the knowledge level of Sri Vidyasamudra Teertha.
The Vrindavan of Sri Vidyasamudra Teertha is at the backyard of Sri Krishna Matha where all prominent
vrindavans of the Swamijis of Ashta mathas are.
Sri Vidyasamudra Teertha: By contemporaries who have seen him the closest.
Contemporaries Speak about Swamiji
Pratah Smaraneeya Sri Vidyasamudra Sripada set an example to others through his words, deeds and actions by leading from front. Also, he taught advanced Madhwa scholarly works like Sri Nyaya Sudha to Late Sri Vishwothama Teertha of Sri Sode Matha along with some householders as students too.
With great powers brought rains to Udupi through Abhisheka to Lord Sri Anantasana
When there were no timely rains in and around Udupi the prevailing practice was to do Abhisheka to Lord Sri Anantasana with water or tender coconuts with extreme austerities. But in the year 1942, even though it was the month of Shravana there was no sign of the rains and hence with the association of  the Paryaya Matha and students of Sanskrit pathashala Abhisheka was performed to Lord Anantasana.
But even then there was no rain. Listening to this, Shri Vidyasamudra Tirtha performed the Abhisheka
with the help of 4 scholars in the Matha the very next day. It looked as if they were challenging the people who performed the Abhisheka the previous day. During the Abhisheka from the clear skies
dark clouds emerged and it started pouring heavily in the car street. People started saying that the
God poured rains after listening to Vidyasamudra Tirtha's prayers.
– Acharya Sanoor Bheema Bhat, Bangalore.
Timely prasadam at Chowki
Since Sri Vidyasamudra Tirtha was not able to withstand the nature's call for a long period; the lunch prasadam was served late at 3 or 4 pm at the Chowki hall during his Paryaya tenure. In 1950, Sri Swamiji's Shashtyabdha (60th Birthday) programme was celebrated. The administrators of the Chowki hall came and requested Swamiji that on that day if lunch prasadam was not served on time, all the invited Brahmins will have problems. Understanding that, Swamiji observed fasting for the whole of the previous day to control nature's call and hence made sure that the lunch prasadam was served on time at the Chowki hall. Also, he would chant the Shloka of Thamadbhutham bAlakam ambujekshaNam which described the Lord in the form that he gave darshan to Devaki and Vasudeva as a child, whenever he used to visit Lord Sri Krishna at Udupi. Hence, he was able to unify the Lord's image as a child with the Lord's image at the temple.
-Madhav Acharya, Chennai.
The guru who first found out the philosophical growth in me
For the first time, when I said that Nakha stuti ( a shloka rendition that describes the nails in the fingers of Lord Narasimha) had one stanza only there was a huge uproar and protest among scholars in Udupi.
At that time Sri Vidyasamudra Tirtha sent for me. I went there with a lot of hesitation expecting a scolding from the Swamiji. But to my surprise he called me closer, patted my back and told me to sit closeby. I sat there expecting a session of firing but instead Swamiji told me that they were pleased with my writing work and I was jubilant. Further, they said that "We have been insisting to the pandits that it's only one stanza as per Sri Hrishikesha Tirtha's Sarvamula manuscripts. We have been telling them to publicize the same as it is official and told by Sri Hrishikesha tirtha but nobody listened. You have the confidence in you to speak the truth hence you should popularize it. He said this and blessed me.
– VidyAvAchaspathi Dr. Bannanje Govindacharya
The great man who brought one back from the dead
Once during travel Swamiji was taking bath on the banks of the confluence of rivers Kohina and Krishna.
At the same time people were preparing a pyre for cremating a dead man who died because of snake
bite. Swamiji immediately rushed there and stopped them from burning, he instructed the Brahmins along with to chant the detoxification mantra and the person rose as if from deep sleep. Since Swamiji was a devotee of Lord Narasimha- the dispeller of troubles, he was able to dispel the troubles of many a devotee.
– Gurugundi Vasudeva Acharya
A servant of 3Gs (Ganga, Gopi and Gau maata)
Swamiji once took bath in the river Ganga during a yatra to Kashi and later used to conduct Ganga pooja on daily basis to the Ganga idol at Kaniyoor matha. Regularly he used to give different daana(offerings) to the Brahmins that was accompanied by a piece of gopichandan (piece of clay from Dwaraka). He also took enough care of the cows in the matha.
– Sri S.K. Acharya, Ambalapady
An Ocean of Compassion
Swamiji had immense compassion and a soft corner towards orphans and people in difficulty. Once there were two mentally challenged men, Ananth and Kedlaya by name, who were designated as assistants to the Swamiji. Whenever any work was assigned to them they used to shout back at Swamiji.
But Swamiji never lost his cool any time. One day a scholar was in discussion with Swamiji and the two men shouted back at Swamiji when work was assigned to them. The scholar suggested Swamiji to throw them out of the Matha, as keeping such people would be very insulting to the Swamiji. But swamiji told him that such people should be kept at the Matha because if he doesn't keep them no one will and they might have to die without food and water. This kind of compassion is rarely found among anyone.
 – Nadyanthillaya Narayana Bhat, Barappadi
 Sufferings will have to be endured
Sri Vidyasamudra Tirtha was once troubled for almost 2 months with Herpes, the wound spread across stomach, sides and the chest. Swamiji did not stop his daily pooja and other activities even during increasing pain. When he was not able to do the japa for long he would kneel and put his head on the ground and continue to meditate on the Lord. The people in matha and students would feel sad about the pain Swamiji was bearing; Swamiji consoled them and told them not to cry as he had to suffer whatever was destined.
– Padur Raghuram Aithal
Source: Vidyasamudra Paryaya Commemorative Volume