H H Shri Vidyavallabha Theertha Swamiji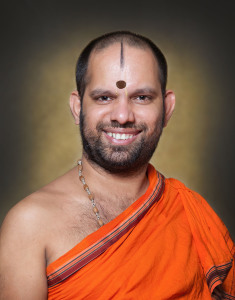 Shri Shri Vidyallabha Theertharu is the thirtieth pontiff in the lineage of Shri Kaniyooru Matha. He was born as the second son of the blessed couple Vidwan Raghupathi Acharya and Shrimati Malathi Acharya on October 30th 1977 at Udupi.
He was named as Krishnaraja Acharya by his parents. Krishnaraja underwent early schooling at Shri Madhwa Siddantha Prabhodini Samskritha Mahapaatashaala at Udupi.
Shri Vidyavarinidhi Theertha Swamiji, then pontiff of Kaniyooru Matha identified Krishnaraja Acharya as his successor and ordained him for Sanyasa on May 8th 1992 at Pajaka Kshetra, the holy place where Shri Madhwacharya was born and named as Shri Vidyavallabha Theertha.
Soon after the Sanyaasa, Shri Vidyavallabha Theertha Swamiji was sent to Shri Satyapramoda Theertha Swamiji of Uttaradi Mutt under whose able mentorship, Shri Vidyavallabha Theertha Swamiji enter the ocean of Dwaitha Philosophy. In the mean time, Shri Vidyavallabha Theertha Swamiji also underwent exploring to Madhwa Philosophy in a deeper way, under the guidance of Shri Satyatma Theertha Swamiji, present Pontiff of Shri Uttaradi Matha, by studying scholarly literature including Tatwa nirnaya, Taatparya Nirnaya, Chandrika and the like. All these happened within a short span of about six years!!! This itself is the evidence for the interest and commitment of Shri Vidyavallabha Theertha Swamiji for Madhwa Philosophy. Shri Swamiji had also been explored to various scholarly literature of Madhwa Philosophy under the guidance of Shri Shri Vidyamanya Theertha Swamiji, Shri Shri Vishwesha Theertha Swamiji, Shri Shri Vishwapriya Theertha Swamiji and Shri Shri Vishwaprasanna Theertha Swamiji to enrich his knowledge.
During the Paryaya tenure of Shri Kaniyooru Matha in the year 1998, Swamiji came back to Udupi to assist his Guru, Shri Vidyavarinidhi Theertha Swamiji during the paryaya. Unfortunately Shri Vidyavarinidhi Theertha Swamiji left to heavenly abode during the paryaya tenure on the holy day of Vaikunta Ekadashi on December 29th 1998. After this accidental event Shri Vidyavallabha Theertha Swamiji took over the responsibility of Shri Krishna Matha and completed the paryaya in a grand manner at the age of just 21 years. During the paryaya tenure, on the very auspicious day of Vijayadashami in the year 1999, Swamiji observed his Sudhamangala in front of the Vrundavana of His Paramaguru, Shri Vidyasamudra Theertha located at Vrundavana Complex of Krishna Matha.
Contribution of Swamiji to the development of Matha:
As per the desire of his predecessor, Shri Vidyavarinidhi Theertha Swamiji, Shri Vidyavallabha Theertha Swamiji developed Pajaka Kshetra, the holy birth place of Acharya Madhwa, in an incredible way with support of devotees. Swamiji has also renovated various braches of Kaniyooru matha, established new branches at Bangalore and Shimoga to cater the spiritual needs of the people.
First time in the history of Pajaka, Shri Vidyavallabha Theertha Swamiji completed the Sudha pata done to his disciple and offered it to Lord and Shri Madhwacarya by organizing the first ever Sudha Mangala at the devine Pajaka in presence of various Peethadhipatis and Madhwa Scholars on June 26th 2012.
As a routine practice Shri Swamiji visits most of the pilgrimage places across the country with devotees and till now about six times Shri Swamiji has completed Badari yatra.
At present Shri Swamiji is observing his second paryaya tenure at Shri Krishna Matha since 18 January 2014. Swamiji has taken up many projects during paryaya tenure such as
Nirantara Jnanayajna – Daily Discourse on entire Mahabharata by renowned scholars
Nitya Sudha Paata – Teaching Shri Nyaya Sudha, a scholarly work by renowned Madhwa Saint, Shri Jaya Theertha, to the aspirants
Arogya Nidhi – a scheme in which limited financial support will be given to the deserving people
Akshaya Paatram – Free mid-day meals to more than 30,000 students of 130 plus schools. This program is run in association with Government of Karnataka
Promotion of art and culture by inviting artists of various forms of art and giving them a platform to showcase their talent.