Sri Vidyavarinidhi Teertha Sripadaru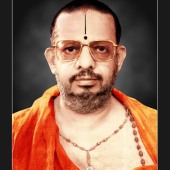 Sri Vidyavarinidhi Teertha Sripadaru was the 29th in the lineage of Sri Rama Teertha (direct disciple of
Sri Madhwacharya) of Sri Kaniyooru Matha. He was born as the second son of Sri Ananthakrishna Acharya and Ratnavathiamma and was named as Narahari in his poorvashrama. He was born on
9th September, 1931 (Wednesday) at his maternal grandfather's house at Chitpady, near Udupi.
He spent majority of his childhood at his maternal grandfather's house as the favorite grandson.
His father was from Budeya village near Kaniyoor of Puttur taluk. But since 8 people from the family
were Swamijis in the Kaniyoor matha lineage, his father was staying in Udupi. Narahari had his primary education at Anantheshwara school and then at Sanskrita pathashala.
During that time the health of Sri Vidyasamudra Teertha was failing, and the astrologers had warned that there would be a threat to the life of Swamiji in his 52nd year. Sri Vidyasamudra Teertha
decided that his younger brother Ananthakrishna Acharya's son Narahari as his successor after seeking the astrologers opinion. On 5th May 1942 Narahari, in his 11th year was initiated into the sanyasa ashrama as per Madhwa traditions and was named as Sri Vidyavarinidhi Teertha.
Sri Sri Vidyavarinidhi Teertha had his initial Sanskrit learning at the Kaniyooru Matha from Vid. Subrahmanya Puranik and Vid. Inna Vasudeva Acharya. He learnt Vedanta under the Madhwa philosophy from Sri Sujnanendra Teertha of Puthige Matha and Sri Lakshmeendra Teertha of
Shiroor Matha.
Since Sri Vidyavarinidhi Teertha was always at Kaniyooru Matha in Udupi, he would assist the Paryaya Swamiji with the daily pooja of Sri Krishna Mukhyaprana taking the small throne (sanna patta). Till his last breath he chanted the Harivayu stuthi in the Puracharana way (prefatory rite) at the Mukhyaprana
Sannidhi. The Centenarian Swamiji of Sri Puthige Matha Sri Sudhindra Teertha honored Sri Vidyavarinidhi Teertha by saying that no other Swamiji would have done the Krishna Mukhyaprana pooja as much as Sri Vidyavarinidhi Teertha.
Sri Vidyasamudra Teertha in his last days used to call his disciple and successor and instruct him on
the most intrinsic qualities and rules of Sanyasa dharma, chanting of not less than 1000 pranava mantra,
parayana of Sri Bhagavad Geeta and Sri Vishnu Sahasranama, and all other duties. He also touched his head and blessed him to conduct a successful Sri Krishna Paryaya. The words of the master had a great effect on the disciple's mind and increased his devotion towards his Guru. It was because of this blessing
that Sri Vidyavarinidhi Teertha was able to conduct his first Paryaya with great glory. Sri Vidyavarinidhi Teertha attributed this success to the blessings of his illustrious Guru. In 1970, Sri Vidyavarinidhi Teertha
took over the administration of a higher primary school at Kidiyoor and named it after his Guru as Vidyasamudra higher primary school. With the help of the Municipal authorities of Udupi he renamed
an important road in Udupi as Vidyasamudra Road. In 1995 he constructed a choultry and named it as
Vidyasamudra Choultry. During his Paryaya he constructed a Go-shala , named it as SriVidyasamudra
Smaraka Goshala in fond remembrance of his guru and offered it to Sri Krishna Mukhyaprana. This showed the steadfast devotion of Sri Vidyavarinidhi Teertha towards his illustrious Guru.
When Sri Vidyavarinidhi Teertha found signs that he was growing old, he chose his successor in his younger brother Sri Raghupathi Acharya's second son, Krishnaraja. On 8th May 1992 (Friday) he gave
him the Sanyasa Deeksha with all mantropadesha , coronated him and named him as Sri Vidyavallabha
Teertha at Pajaka, the birth place of Sri Madhwacharya.
Sri Vidyavarinidhi Teertha, with his disciple Sri Vidyavallabha Teertha jointly took over the Sri Krishna Pooja Paryaya for the 4th term (1998-2000) and conducted the Pooja of Sri Krishna Mukhyaprana. When the Paryaya was into the 11th month, Sri Vidyavarindhi Teertha left the material world on the auspicious evening of Vaikunta Ekadashi towards the heavenly abode.